Thank you for your donation!
Your gift entitles you to the four-part Meditation, as well as the PDF booklet and complimentary resources below. Please bookmark this page if you would like to return to it to download items again at a future time.
To listen to the Meditation streaming on your computer, select one of the following:
Meditation Exercise, Part 1

Listen (mp3)
Meditation Exercise, Part 2

Listen (mp3)
Meditation Exercise, Part 3

Listen (mp3)
Meditation Exercise, Part 4

Listen (mp3)
Tips for successful meditating
(designed to accompany the Meditation)

Listen (RealPlayer)

Listen (mp3)

To download a Meditation audio and save it to your computer:
Right-click on any of the links above and select Save Target As or Save Link As. Then, choose where you want to save it on your computer. You can then listen on your computer, burn an audio CD, or transfer it to your portable music player.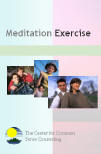 Meditation Booklet
We strongly recommend that you read the Meditation Booklet along with the Meditation audio. This booklet contains valuable tips and guidance on using the Meditation, in an easy-to-read format.

Meditation Booklet in PDF
A Brief Introduction to Stress Management
We have all suffered the consequences of excessive stress. We know how stressful moving, losing a job, or dealing with a major illness can be. But could it be that we are adding to our stress load by over-reacting emotionally? Could it also be that we are making our body undergo stressful reactions by our attitude and mindset toward people and circumstances around us? In this concise but profound treatise, Roland Trujillo answers these questions and informs the reader about the basics of stress. Grasping the basics of stress, the reader is now prepared to understand the psycho-spiritual principles that permit a person to face stressors more calmly.
Becoming a Friend of God: Finding Peace of Mind and Courage in an Age of Anxiety

Many of us have deep issues that we carry with us through life. We seek answers in the world, only to be disappointed or misunderstood. What is the meaning of life? Does God exist? If He does, will He forgive me? We also wonder about our relationship with others, a distance between ourselves and our father, or about issues in our marriage and family life. Roland answers all of these questions and more. This magical book will show you how to re-find intuition and the very secret to life.
Meditation Resources
View a complementary copy of our April/May 2012 newsletter, devoted to the topic of Meditation